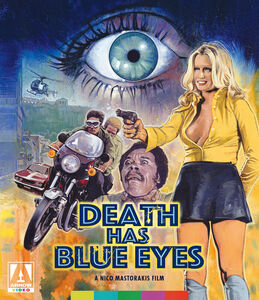 Death Has Blue Eyes (To Koritsi Vomva)
Release

06/04/2021

Film and TV Genre

Action / Adventure

Media Format

Blu-ray

Please be advised. Unless otherwise stated, all BLU-RAY are REGION A and all DVD are REGION 1 encoding. Before purchasing, please ensure that your equipment can playback these regions. For more information on region encoding, please click the link below:
Product Notes
Death Has Blue Eyes is a gripping paranormal action thriller with shades of giallo from the director of the cult classic video nasty Island of Death (1976). When local gigolo Chess (Chris Nomikos) greets his vacationing friend Bob Kovalski (Peter Winter) at Athens airport, the pair embark on a string of scams and erotic dalliances that eventually lead them into contact with an elegant wealthy woman, Geraldine Steinwetz (Jessica Dublin), and her glamorous daughter Christine (Maria Aliferi). Geraldine blackmails the two cheeky bachelor boys into acting as bodyguards for Christine, whom it transpires has telepathic abilities and has had her eye on them for some time. After fleeing from a series of assassination attempts, it soon becomes clear that Geraldine herself might not be quite whom she seems, as the two young men find themselves caught up in a political conspiracy of international dimensions. p In his debut feature, maverick filmmaker Nico Mastorakis presents us with a generous meze of non-stop car, bike and helicopter chases, a bevy of beautiful girls with guns, sensational softcore sex scenes, psychic thrills and Cold War political intrigue set against the picturesque landscapes of 70s Greece, all presented for the very first time in a new HD master in both widescreen and full-frame versions.
Description
| | |
| --- | --- |
| Title: | Death Has Blue Eyes (To Koritsi Vomva) |
| Genre: | Action / Adventure |
| Starring: | Jessica Dublin |
| Studio: | Arrow Video |
| Release Date: | 06/04/2021 |
| Media Format: | Blu-ray |
| Rated: | 18+ |
| UPC: | 760137515586 |
| Original Language: | ENG |
| Run Time: | 77 minutes |
| Year of Release: | 1976 |