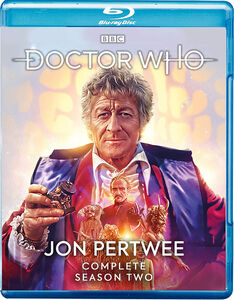 Doctor Who: Jon Pertwee: Complete Season Two
(Remastered, AC-3)
Release

01/06/2021

Film and TV Genre

TV Sci-Fi, British-Television

Media Format

Blu-ray

Please be advised. Unless otherwise stated, all BLU-RAY are REGION A and all DVD are REGION 1 encoding. Before purchasing, please ensure that your equipment can playback these regions. For more information on region encoding, please click the link below:
Product Notes
Season eight-Jon Pertwee's second as the Third Doctor-introduces new companion Jo Grant (Katy Manning) and the Doctor's arch foe, the sinister Time Lord the Master (Roger Delgado). "Terror of the Autons" finds the Doctor and Jo working with UNIT in order to foil an invasion scheme by the Master and his Nestene allies. The Doctor must save the members of a global-peace conference from becoming the latest victims of the Master, whose weapons are a stolen nerve gas missile and a parasitic alien that feeds on evil thoughts, in "The Mind of Evil." Peaceful alien beings called Axons land on Earth in search of aid, in "The Claws of Axos." But a skeptical Doctor unmasks their true motives and a deadly plan by the Master. Next, dispatched by the Time Lords to a remote planet fought over by farmer colonists and a mining company, the Doctor and Jo go up against the Master, who is using the "Colony in Space" as a base to construct a Doomsday Weapon. Finally, an ancient English burial mound is the setting for the Master's plot to take over the Earth with the help of a devilish-looking alien, and it's up to the Doctor, Jo, and UNIT to stop him, in "The Daemons."25 episodes on 8 discs. Standard; Soundtrack: English.
Description
| | |
| --- | --- |
| Title: | Doctor Who: Jon Pertwee: Complete Season Two |
| Genre: | TV Sci-Fi, British-Television |
| Starring: | Jon Pertwee, Katy Manning, Nicholas Courtney, Richard Franklin, John Levene, Roger Delgado, Michael Wisher, Fernanda Marlowe, Stephen Thorne, Damaris Hayman |
| Theme: | Doctor Who |
| Directors: | Timothy Combe, Christopher Barry, Michael E. Briant, Michael Ferguson, Barry Letts |
| Studio: | BBC Warner |
| Number of Discs: | 8 |
| Attributes: | Remastered, AC-3 |
| Release Date: | 01/06/2021 |
| Media Format: | Blu-ray |
| UPC: | 883929728916 |
| Year of Release: | 1971 |