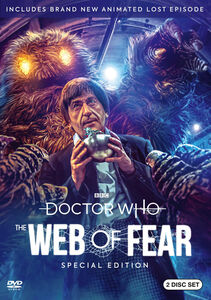 Doctor Who: The Web of Fear
(Eco Amaray Case)
Release

01/02/2022

Film and TV Genre

TV Sci-Fi, British-Television

Media Format

DVD

Please be advised. Unless otherwise stated, all BLU-RAY are REGION A and all DVD are REGION 1 encoding. Before purchasing, please ensure that your equipment can playback these regions. For more information on region encoding, please click the link below:
Product Notes
One of the most popular shows in British TV history, this long-running, shoestring-budgeted sci-fi saga followed the exploits of "the Doctor," a maverick scientist and adventurer who traversed space and time in the TARDIS, a high-tech craft disguised (well, stuck, actually) as a London police box. William Hartnell, Patrick Troughton, Jon Pertwee, Tom Baker, Peter Davison, Colin Baker, and Sylvester McCoy starred as the various eccentric incarnations of the Doctor during the series's initial 1963-1989 run. Landing the TARDIS in London, the Doctor (Patrick Troughton) finds the city deserted, encounters a robot yeti, and discovers the Underground is infested with a mysterious web-like fungus. With help from Colonel (future Brigadier) Lethbridge-Stewart, making his debut appearance, the Doctor must foil the Great Intelligence's nefarious plot to drain the Time Lord's mind. 145 min. Standard; Soundtrack: English Dolby Digital 5. 1; Subtitles: English (SDH); reconstructed episode three; animated episode three; audio commentary; documentaries; featurette; photo gallery; trailer. Two-disc set.
Description
| | |
| --- | --- |
| Title: | Doctor Who: The Web of Fear |
| Genre: | TV Sci-Fi, British-Television |
| Starring: | Patrick Troughton, Frazer Hines, Deborah Watling, Nicholas Courtney, Jack Watling, Tina Packer, Jon Rollason, Ralph Watson, Jack Woolgar, Richardson Morgan |
| Theme: | Doctor Who |
| Director: | Douglas Camfield |
| Studio: | BBC Warner |
| Number of Discs: | 2 |
| Attributes: | Eco Amaray Case |
| Release Date: | 01/02/2022 |
| Media Format: | DVD |
| Rated: | NR |
| UPC: | 883929785773 |
| Original Language: | ENG |
| Run Time: | 150 minutes |
| Year of Release: | 2022 |