Show results for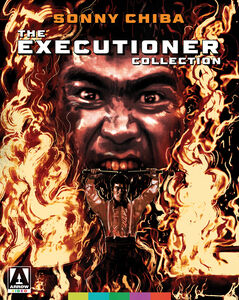 The Executioner Collection
Release

10/01/2023

Film and TV Genre

Action / Adventure, Action-Martial Arts

Media Format

Blu-ray

Please be advised. Unless otherwise stated, all BLU-RAY are REGION A and all DVD are REGION 1 encoding. Before purchasing, please ensure that your equipment can playback these regions. For more information on region encoding, please click the link below:
Product Notes
Fists flurry and blood flows as legendary cult director Teruo Ishii (Shogun's Joy of Torture, Horrors of Malformed Men) joins forces with martial arts legend Shin'ichi 'Sonny' Chiba in this bone-crunching double whammy of classic karate exploitation from Toei. Ryuichi Koga (Chiba) is a descendent of the Koga Ninja school, now earning his living through more nefarious means as a gun for hire. When he is enlisted to take down a drug cartel alongside Hayabusa (Makoto Sato), a disgraced former narcotics detective now operating within the criminal underworld, and renegade Aikido master Sakura (Eiji Gō), tensions grow among this three-man team of ne'er-do-wells as each come to question each other's motives. Koga returns in the even more gung-ho follow up, Karate Inferno, as the ringmaster of a gang of thieves plotting to steal a priceless jewel from a master criminal. Making it's High Definition home-video debut, The Executioner is presented in both it's original Japanese-language version and with the English dub track from the 1970s North American release. Fans of the Street Fighter star will delight as Chiba pitches himself into a succession of freewheeling action and feisty fight scenes in this double dish of martial arts mayhem, all served up in director Ishii's characteristically lurid style.