Show results for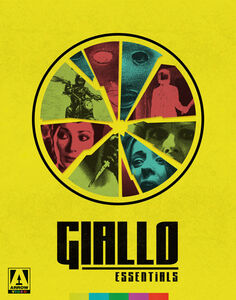 Giallo Essentials 2
Release

21/12/2021

Film and TV Genre

Horror, Foreign-Italian

Media Format

Blu-ray

Please be advised. Unless otherwise stated, all BLU-RAY are REGION A and all DVD are REGION 1 encoding. Before purchasing, please ensure that your equipment can playback these regions. For more information on region encoding, please click the link below:
Product Notes
Arrow Video continues it's exploration of Italian cult cinema with this second volume of Giallo Essentials, bringing together three more suspense-filled exemplars of the genre! In Massimo Dallamano's What Have They Done to Your Daughters? (1972), hot-headed Inspector Silvestri (Claudio Cassinelli, The Suspicious Death of a Minor) and rookie Assistant District Attorney Vittoria Stori (Giovanna Ralli, Cold Eyes of Fear) investigate the apparent suicide of a teenage girl, leading them to a sordid prostitution ring whose abusers occupy the highest echelons of Italian society. Sergio Martino's Torso (1973) helped lay the groundwork for the American Slasher Movie: when a ruthless killer begins to target the female university students of Perugia, Jane (Suzy Kendall, The Bird with the Crystal Plumage) and her friends flee for the peace of the countryside, only to discover that the threat isn't far behind. Finally, Andrea Bianchi's Strip Nude for Your Killer (1975) delivers depravity in droves as ambitious photographer Magda (Edwige Fenech, Your Vice is a Locked Room and Only I Have the Key) and her on-off boyfriend, love rat Carlo (Nino Castelnuovo, The English Patient), team up to solve the spate of highly sexualized murders that are rocking a prestigious Milanese fashion house. Featuring grisly murders, amateur sleuths and motorcycle-riding maniacs, these iconic gialli are restored in 2K from their original negatives and are presented alongside a raft of juicy extras!