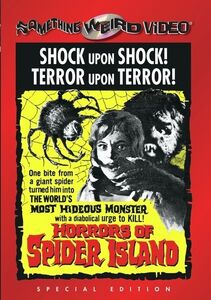 Horrors of Spider Island
Release

14/11/2000

Media Format

DVD

DVD Region

0

Please be advised. Unless otherwise stated, all BLU-RAY are REGION A and all DVD are REGION 1 encoding. Before purchasing, please ensure that your equipment can playback these regions. For more information on region encoding, please click the link below:
Product Notes
Eight beautiful women alone with the world's most hideous monster! Eight sexy showgirls and their macho manager survive a plane crash and take refuge on a remote tropical island. As the gals adjust to the heat and humidity by shedding most of their clothes, they also meet one of their new neighbors: a dead scientist found caught in a giant web. Ignoring the obvious, testosterone-fueled Gary blithely takes a midnight stroll until he's bitten by an overgrown, crab-like spider and immediately transforms into a clawed, fanged, hairy-faced bogeyman who does exactly what monsters in horror films are supposed to do: chase women!