Show results for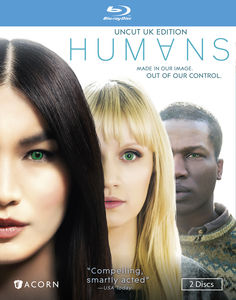 Humans: Season 1.0
Release

29/03/2016

Film and TV Genre

TV Sci-Fi, British-Television

Media Format

Blu-ray

Please be advised. Unless otherwise stated, all BLU-RAY are REGION A and all DVD are REGION 1 encoding. Before purchasing, please ensure that your equipment can playback these regions. For more information on region encoding, please click the link below:
Product Notes
In the near future, technological advances have brought about the creation of life-like humanoid servants, called Synthetics--or synths--that help busy families simplify their lives. Joe Hawkins (Tom Goodman-Hill, The Imitation Game), disheartened by his wife, Laura's (Katherine Parkinson, The IT Crowd), distance, and his children's indifference, purchases a synthesizer with the hope that it will ease the family's struggles. The synthesizer, Anita (Gemma Chan, Jack Ryan: Shadow Recruit) is an instant hit with Joe's children, but Laura can't shake her unease or the feeling that something is very wrong with Anita. As the Hawkins family adjusts to life with Anita, retired synth engineer George (William Hurt, Damages, The Host) can't bring himself to get rid of his beloved, but malfunctioning synthesizer, Odi (Will Tudor, Game of Thrones). And mysterious Leo (Colin Morgan, Merlin) desperately searches for someone with his synthesizer, Max. But why does Max seem different from other synths, and what secrets are the two holding? Also starring Danny Webb (Valkyrie, Land Girls), Neil Maskell (Utopia), Ruth Bradley (Flyboys), and Emily Berrington (24: Live Another Day), Humans is a slick, finely crafted thriller (Globe & Mail, Canada).