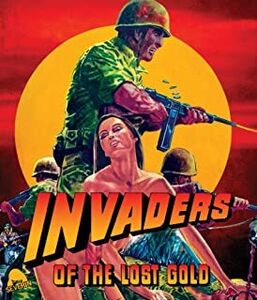 Invaders of the Lost Gold
Release

22/06/2021

Film and TV Genre

Action / Adventure

Media Format

Blu-ray

Please be advised. Unless otherwise stated, all BLU-RAY are REGION A and all DVD are REGION 1 encoding. Before purchasing, please ensure that your equipment can playback these regions. For more information on region encoding, please click the link below:
Product Notes
From producer Dick Randall - whose international trashterpieces include ESCAPE FROM WOMEN'S PRISON, THE WILD WILD WORLD OF JAYNE MANSFIELD and PIECES - comes perhaps the most notorious all-star Philippine productions of the '80s: In the last days of WWII, a Japanese platoon is attacked by headhunters while attempting to hide millions in gold. 36 years later, a grizzled guide (onetime Academy Award® nominee Stuart Whitman) is hired to lead an expedition - including Woody Strode (SPARTACUS), Harold 'Oddjob' Sakata and Laura 'Emanuelle' Gemser - into a jungle inferno of greed, violence, nudity and murder. Edmund Purdom (ABSURD) and Glynis Barber (DEMPSEY AND MAKEPEACE) co-star in this "delicious piece of atrocity cake" (Funxton) directed by Alan Birkenshaw (KILLER'S MOON) - also known as HORROR SAFARI - now scanned in 2K for the first time ever.