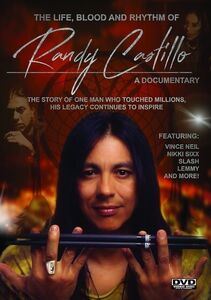 Preview
The Life, Blood And Rythm Of Randy Castillo
(Manufactured on Demand, AC-3, NTSC Format)
Release

28/08/2018

Film and TV Genre

Special Interest-Documentary

Media Format

DVD

Video Format

NTSC

Please be advised. Unless otherwise stated, all BLU-RAY are REGION A and all DVD are REGION 1 encoding. Before purchasing, please ensure that your equipment can playback these regions. For more information on region encoding, please click the link below:
Product Notes
From Mariachi to Ozzy, from Native roots to Motley Crue, Randy Castillo became the greatest drummer in rock. His personal story was even more magical. Home videos trace his musical evolution, from childhood to the surreal stagecraft of his early bands, to the innovative performances that define his legend and heavy metal, itself to this day. His single-minded discipline inspired everyone around him, but he is remembered by friends as a man of unfailing loyalty, unwavering kindness and an indefinable mystique that bordered on the supernatural. At the peak of his career, Randy began to focus on a family life with his fiancee, Christina. But he was soon taken by cancer, leaving a void in the lives of his fiancee, his family, and a surprisingly large circle of rock superstars who considered him to be one of their closest and most trusted friends. In the words of renowned stage manager Mark Russo, He wasnt just a force of nature as an artist; he was a force of nature as a human being.
Description
| | |
| --- | --- |
| Title: | The Life, Blood And Rythm Of Randy Castillo |
| Genre: | Special Interest-Documentary |
| Starring: | Slash, Lemmy, Nikki Sixx |
| Studio: | Freestyle Digital |
| Attributes: | Manufactured on Demand, AC-3, NTSC Format |
| Release Date: | 28/08/2018 |
| Media Format: | DVD |
| Rated: | TV14 |
| UPC: | 853342008063 |
| Original Language: | ENG |
| Video Format: | NTSC |
| Year of Release: | 2018 |