Show results for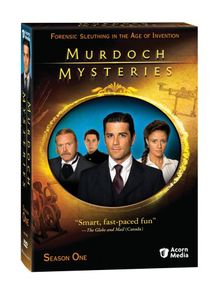 Murdoch Mysteries: Season One
Release

05/08/2012

Film and TV Genre

TV Crime, Television

Media Format

DVD

Please be advised. Unless otherwise stated, all BLU-RAY are REGION A and all DVD are REGION 1 encoding. Before purchasing, please ensure that your equipment can playback these regions. For more information on region encoding, please click the link below:
Product Notes
Combining the period appeal of Sherlock Holmes with the forensic fascination of CSI, this slick, stylish series has won fiercely loyal fans in the U. K. and Canada. In Victorian Toronto, handsome Detective Murdoch (Yannick Bisson, Sue Thomas: F. B. Eye) uses newfangled scientific techniques like finger marks to solve the citys most baffling murders. Helped by a pretty pathologist (Gemini-winner Hilhne Joy, Durham County) and an eager protigi (Jonny Harris, Hatching, Matching & Dispatching), he tries to win over his skeptical boss (Thomas Craig, Where the Heart Is) to his radical methods. Clever plot twists, sly wit, and references to historical figures add to the fun. Starring Yannick Bisson, Jonny Harris, Helene Joy Special Features: 4-Disc Set Box Set Screen Format Note: Widescreen 16:9 Audio: Stereo - English Subtitles - English - SDH Additional Release Material Runtime: 598 Minutes.