Show results for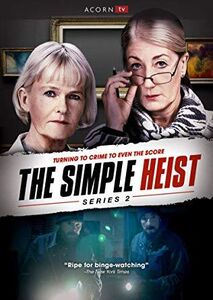 The Simple Heist: Series 2
Release

05/11/2019

Film and TV Genre

TV Crime, Foreign-Swedish

Media Format

DVD

Please be advised. Unless otherwise stated, all BLU-RAY are REGION A and all DVD are REGION 1 encoding. Before purchasing, please ensure that your equipment can playback these regions. For more information on region encoding, please click the link below:
Product Notes
Sweden's unlikeliest thieves plot a new caper as the comedic crime drama returns. Gastroenterologist Cecilia (Sissela Kyle, Miss Friman's War) and teacher Jenny (Lotta Tejle, The Sandhamn Murders) are living comfortably after their successful bank robbery. But when Jenny's daughter is passed up for a scholarship due to sexism and Cecilia's frustration with her job reaches a boiling point, the two friends decide it's time for another heist. The daring duo target a valuable art installation, but stealing and fencing the artwork prove to be greater challenges than they had planned. As they dodge the police, they must also contend with a vengeful biker gang and Jenny's jealous boyfriend. How far will they go to make their crime pay off? Nominated for Best Comedy at Sweden's Kristallen Awards, The Simple Heist shines with droll humor and pointed social commentary.