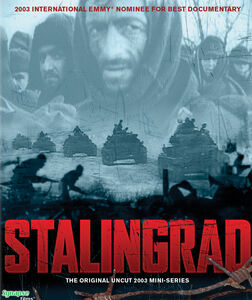 Stalingrad (HD Remaster)
(Anamorphic, Widescreen, Digital Theater System)
Release

15/12/2015

Film and TV Genre

Special Interest-War

Media Format

Blu-ray

Blu-ray Region

0

Please be advised. Unless otherwise stated, all BLU-RAY are REGION A and all DVD are REGION 1 encoding. Before purchasing, please ensure that your equipment can playback these regions. For more information on region encoding, please click the link below:
Product Notes
The Eastern Front experienced the viciousness of war on a scale of unimaginable horror and brutality. The bloodiest and most savage fighting took place in Stalingrad between August 1942 and February 1943. Stalin's city on the Volga had military significance for Hitler, as it carried the name of his enemy and therefore had to be destroyed. The ensuing battle sealed the fates of hundreds of thousands of soldiers and civilians, marked the turning point of World War II, and was the beginning of the end for Nazi Germany. This three-part HD documentary by award-winning documentary filmmakers Sebastian Dehnhardt, Christian Deick and Jorg Mullner presents both the German and Russian perspective, contains rare footage shot by soldiers during the siege, and reveals new historical facts with moving eyewitness accounts and confessions from some of Stalingrad's last survivors. The Russian archives opened their doors to the filmmakers, granting exclusive access to a wealth of previously unreleased material. Originally broadcast in both Germany and Russia in slightly truncated editions, this Blu-ray contains all three STALINGRAD documentaries including THE ATTACK (54 min.), THE KESSEL (56 min.) and THE DOOM (55 min.) in their original uncut, English dubbed versions.
Description
| | |
| --- | --- |
| Title: | Stalingrad (HD Remaster) |
| Genre: | Special Interest-War |
| Studio: | Synapse Films |
| Attributes: | Anamorphic, Widescreen, Digital Theater System |
| Release Date: | 15/12/2015 |
| Media Format: | Blu-ray |
| Rated: | NR |
| UPC: | 654930317792 |
| Original Language: | ENG |
| Run Time: | 165 minutes |
| Blu-ray Region: | 0 |
| Year of Release: | 2003 |