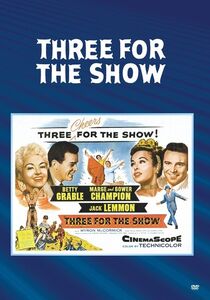 Three for the Show
(Manufactured on Demand)
Release

01/02/2011

Film and TV Genre

Musicals (Theatrical)

Media Format

DVD

Please be advised. Unless otherwise stated, all BLU-RAY are REGION A and all DVD are REGION 1 encoding. Before purchasing, please ensure that your equipment can playback these regions. For more information on region encoding, please click the link below:
Product Notes
Jack Lemmon and Betty Grable are paired in this musical re-make of Too Many Husbands which infuses the original story of a marital mix-up with the backstage action of a musical-comedy. Grable plays Julie Stewart, whose husband Marty (Lemmon), is reported killed in action. Shortly after the widow decides to marry Marty's best friend and partner, Vernon Lowndes (Gower Champion), husband number one shows up. While Julie tries to decide whether "happily ever after" will be with Marty or hubby number two, she takes up residence with both! The plot is further complicated by Julie's best friend Gwen (Marge Champion), who becomes both a romantic and professional rival. Will Julie choose Marty or Vernon, or will she lose the love of both through indecision? Newly remastered.
Description
| | |
| --- | --- |
| Title: | Three for the Show |
| Genre: | Musicals (Theatrical) |
| Starring: | Betty Grable, Marge Champion, Gower Champion, Jack Lemmon, Myron McCormick, Willard Waterman, Henry Slate, Gene Wesson, Don Kohler, Emil Sitka |
| Directors: | H. C. Potter, H.C. Potter |
| Studio: | Sony Mod |
| Attributes: | Manufactured on Demand |
| Release Date: | 01/02/2011 |
| Media Format: | DVD |
| Rated: | NR |
| UPC: | 043396377998 |
| Original Language: | ENG |
| Closed Caption: | No |
| Year of Release: | 1955 |